Portland Center Stage at The Armory: "A Personal Matter" Screening with HOLD THESE TRUTHS playwright Jeanne Sakata on Oct. 2; Happy Hour with Sakata and musicians Peter Zisa and Yukiko Vossen on Oct. 4
On Sunday, October 2, join actor and playwright Jeanne Sakata as she share her experiences in researching and writing her solo play Hold These Truths, inspired by the World War II experiences of civil rights hero Gordon Hirabayashi, a Japanese American college student who openly defied and legally challenged government orders to mass incarcerate all people of Japanese ancestry on the West Coast. The Seattle native was posthumously awarded the 2012 Presidential Medal of Freedom.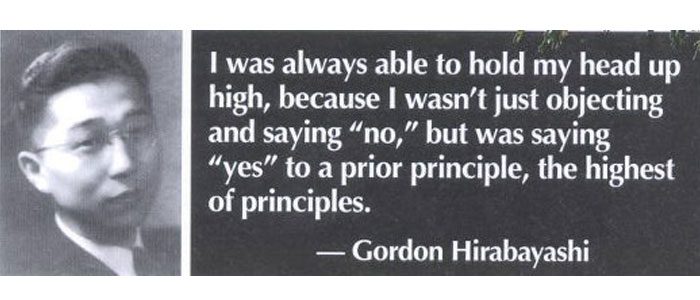 Ms. Sakata will speak about what inspired her to write the play, the research and interviews she used as her primary source material, the challenges in writing the play and getting it produced, and its developmental progress since its world premiere in 2007 at the East West Players in Los Angeles' Little Tokyo neighborhood. She will also screen the documentary film, A Personal Matter: Gordon Hirabayashi vs. The United States, from which she first learned of Gordon Hirabayashi's story.
Ms. Sakata's talk and the film screening at 4:00P.M. is free and open to the public. Portland Center Stage at The Armory is located at 128 NW Eleventh Avenue, Portland, OR.
Ms. Sakata's talk is a special event being presented in tandem with Portland Center Stage at The Armory's production of Hold These Truths, starring Ryun Yu and directed by Jessica Kubzansky. Hold These Truths begins previews tonight in the Ellyn Bye Studio, with an official opening on Friday, October 7, and will run through Sunday, November 13. The Ellyn Bye Studio is located at 128 NW Eleventh Avenue, Portland, OR. Click here to purchase tickets.
Portland Center Stage at The Armory Debuts its Northwest Stories Series with Jeanne Sakata's HOLD THESE TRUTHS Starring Ryun Yu, Oct. 1-Nov. 13 
On Tuesday, October 4 at 6:30P.M. in partnership with the Oregon Nikkei Legacy Center, there will be a special pre-show Happy Hour with Hold These Truths playwright Jeanne Sakata and musicians Peter Zisa and Yukiko Vossen.
Complimentary snacks and drinks will be provided. As always, Happy Hours are free and open to the public, with no reservations or tickets required.
Use the Promo Code "NIKKEI" for $10 off an adult ticket to Hold These Truths!*
**Not valid on previously purchased tickets, student tickets or in combination with other discounts. Subject to availability.
ABOUT JEANNE SAKATA
Jeanne Sakata is a renowned Asian American actor and playwright. In 2015, Jeanne's work spanned across theater, film and television, with a highly successful return engagement of her celebrated solo play Hold These Truths in ACT Seattle's 50th Anniversary Mainstage Season; guest starring roles on Bravo TV's TRUE FICTION pilot and on Ken Jeong's new ABC hit comedy DR. KEN; her acclaimed comic turns onstage as Marceline in LA Times 2015 Critic's Choice Figaro at A Noise Within and as Masha in LAPT'S Vanya and Sonia and Masha and Spike; and her voice work as Soon Yang in Jennifer Phang's acclaimed indie sci-fi film, Advantageous, which garnered the US Dramatic Special Jury Award for Collaborative Vision at the 2015 Sundance Film Festival before premiering at New York's BAMcinemaFest, Los Angeles Asian Pacific Film Festival, San Francisco Film Society, and exclusively on Netflix in eighteen languages.
ABOUT PETER ZISA AND YUKIKO YAMAGUCHI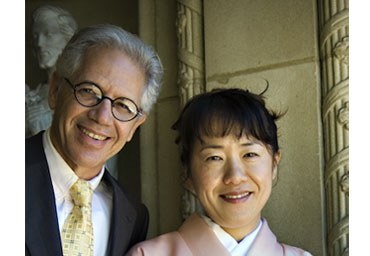 Dr. Peter Joseph Zisa is an award winning performer on the six and eight string Classical Guitar. His performance career started at age thirteen. He studied with such legendary classical guitarists as Maestro Andres Segovia, Pepe Romero, Jose Tomas, and Jose Rey Della Torre. A "poet of the guitar" Zisa's playing is described as "dynamic, sensitive, authentic" and "an exciting musical experience" (Louis Sahagun, Los Angeles Times). He is a complete musician with a distinctive versatile style.
Dr. Zisa is a professor of music at Pacific University. In 2007, he founded the world music ensemble Thousand Waves, which blends the sounds of the Japanese Koto with the guitar, flute, violin, and percussion. Dr. Zisa is also an active supporter of the arts in the community. His passion is to promote music education and performance opportunities for children and promising young musicians.
Yukiko, born in Japan, received her primary training from Grand Master Masazumi Mizuno and Gasho Okuno. She received her Master Certificate from Seiha Conservatory of Japanese Music. Yukiko's performances in the U.S. include concerts as an ensemble member under the direction of extraordinary Jazz shakuhachi (bamboo flute) player/composer John Kaizan Neptune and the world renowned Koto virtuoso Kazue Sawai. Yukiko regularly performs concerts and lecture performances as a soloist, as a member of Thousand Waves. "Yukiko Yamaguchi's performance on the Koto [Japanese harp] is exquisitely refined and dynamically vibrant."
ABOUT OREGON NIKKEI LEGACY CENTER
Oregon Nikkei Legacy Center is Japanese American history museum in Portland, charged with the preservation and sharing of the history and culture of the Japanese American community. The Legacy Center opened the doors to its current home in September of 2004. The museum now has a larger exhibit space, with exhibits that highlight Issei immigration and early life in Oregon, Nihonmachi (Japantown), and life after Executive Order 9066, including the Portland Assembly Center and contemporary Nikkei life. More info at www.oregonnikkei.org.
Click here  for the Lia Chang Articles Archive and here for the Lia Chang Photography Website.
Lia Chang is an actor, a multi-media content producer and co-founder of Bev's Girl Films, making films that foster inclusion and diversity on both sides of the camera. Bev's Girl Films' debut short film, Hide and Seek was a top ten film in the Asian American Film Lab's 2015 72 Hour Shootout Filmmaking Competition, and she received a Best Actress nomination. BGF collaborates with and produces multi-media content for artists, actors, designers, theatrical productions, composers,  musicians and corporations. Lia is also an internationally published and exhibited photographer, a multi-platform journalist, and a publicist. Lia has appeared in the films Wolf, New Jack City, A Kiss Before Dying, King of New York, Big Trouble in Little China, The Last Dragon, Taxman and Hide and Seek. She is profiled in Examiner.com, Jade Magazine and Playbill.com.
All text, graphics, articles & photographs: © 2000-2016 Lia Chang Multimedia. All rights reserved. All materials contained on this site are protected by United States copyright law and may not be reproduced, distributed, transmitted, displayed, published or broadcast without the prior written permission of Lia Chang. You may not alter or remove any trademark, copyright or other notice from copies of the content. For permission, please contact Lia at liachangpr@gmail.com